Site Navigation
Home

About us
People's Police Report
Shootings & deaths
Cool links
Other Information
Contact info
Donate

Welcome to the Portland Copwatch Web Page
---
Portland Copwatch is a grassroots, volunteer organization
promoting police accountability through citizen action.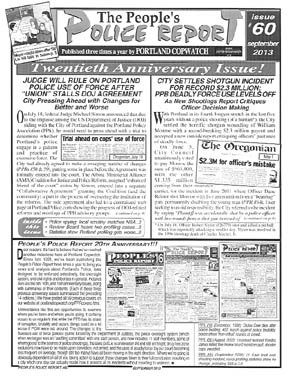 ---
Newsletter
---
Shootings and Deaths in Custody
Back to top
---
Portland Copwatch Activities
NOW AVAILABLE FROM PORTLAND COPWATCH:
Copies of "Alien Boy: The Life and Death of James Chasse, Jr"
on DVD! (April 2014)

Send $15 check or money order to
Portland Copwatch/Peace and Justice Works
PO Box 42456
Portland, OR, 97242
(Sorry, we can't accept payment for DVDs or other items via our web donation page)


and
Copies of "Arresting Power: Resisting Police
Violence in Portland, OR"
If you send $20 to the same address (December 2015)

Information on US Dept of Justice Agreement
In 2012, the US DOJ found a "pattern and practice" of excessive force by the PPB.
The DOJ page on our site includes links to documents including:

Copwatch stickers available
Hey! Would you like to have your very own Portland Copwatch sticker? Decorate your bike, car, backpack, notebook, front porch, or whatever! Send us a self-addressed, stamped envelope.
We can send up to 8 4"x2.5" stickers for 1 stamp.
<!- -/b-->
-> Look here for announcements of upcoming
Orientations, Your Rights and the Police Seminars
and Copwatch Trainings
Contact us if you want us to provide a training for your organization!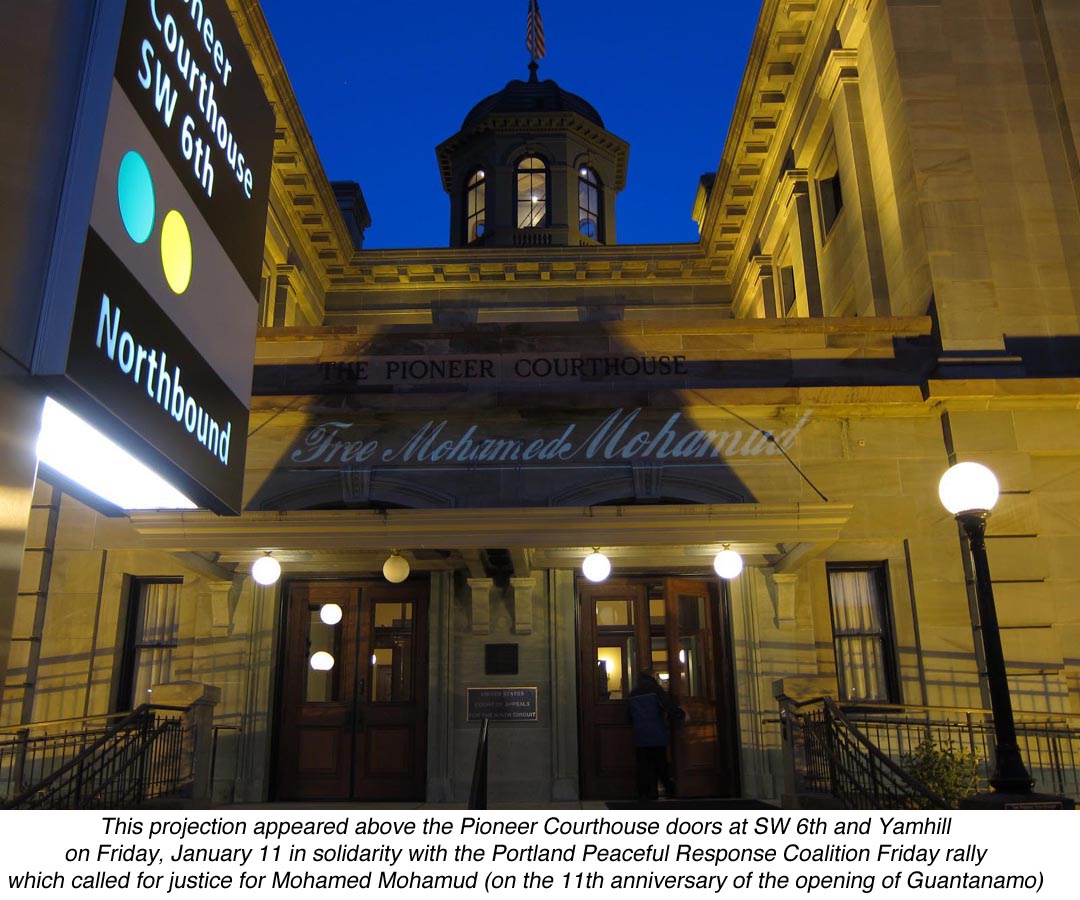 End FBI Stings!
Mohamed Mohamud was sentenced to 30 years in prison after
being set up by the FBI in a sting operation similar to many
others around the nation. His January 2013 trial ended in a guilty verdict.
Download and read our background fact sheet on FBI stings
(last updated November 27, 2015)
Changes to Portland's Civilian Oversight system
Depsite the community waiting for nearly 2 years to strenghten the Independent
Police Review Division (IPR)'s Citizen Review Committee (CRC), Council voted in
only 4 significant changes to the ordinance on December 14, 2011, one of which
weakened the CRC.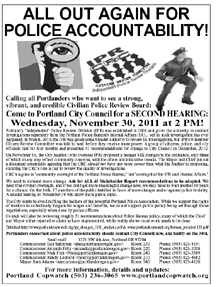 Read more on our page about the police oversight system including:
Portland Copwatch's analysis of the "Standard of Review" for the
Citizen Review Committee (4/8/11-.pdf)
Portland Copwatch participated in the Mayor's Racial Profiling Committee
from January, 2007 until it was disbanded in late 2008.
(We are monitoring the Office of Equity and Human Rights' efforts to continue the work.)
Back to top
---
Other Portland Police Accountability Stuff
Back to top
---
Reports
Back to top
---
Information
Back to top
On This Page
* denotes recent New info

Newsletter info*
PPR #67 online 2/16
Shootings & deaths*
Portland list updated 6/16*
State list 2010-2015
Portland CW Activities
updated DOJ info 12/15
Other info
Police Review Board Report 1/16
Reports
Information
Top 25 settlements
Archives
Contact info