Changes to Portland's Civilian Oversight system
August-November 2016: City To End Public Input at Accountability Hearings
Read Portland Copwatch's comments
to City Council and the Auditor condemning the process and content
of their first proposal to gut the Citizen Review Committee (CRC) of its public hearings.
Subsequently the City proposed to keep hearings public but cut out public comment.
PCW was invited to sit on a Stakeholder Committee to consider fixes.

Previously, the community waited for nearly 2 years to strenghten the CRC, Council voted in
only 4 significant changes to the ordinance on December 14, 2011, one of which
weakened the CRC.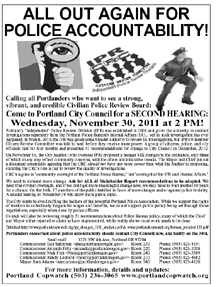 Read more on our page about the police oversight system including:
Portland Copwatch's analysis of the "Standard of Review" for the
Citizen Review Committee (4/8/11-.pdf)