Site Navigation
Home
About us
People's Police Report
Shootings & deaths
Cool links
Other Information
Contact info
Donate
Welcome to the Portland Copwatch Archives Page
---
Read older, but still interesting stuff
from Portland Copwatch's past
---
Portland Joint Terrorism Task Force (PJTTF)
City Council Hearing on the Portland Joint Terrorism Task Force 2011!
Thursday, February 24 March 10 March 17, 2011, 2:00 PM
Thursday, April 28, 2 PM City Council Chambers (SW 4th and Madison)
We worked on the effort for Portland to withdraw from the JTTF in 2005;
now Council is considering joining again. Download proposal from
the ACLU of Oregon on improving the 2005 agreement: (.doc file) (.pdf file)
And the Mayor's proposed Resolution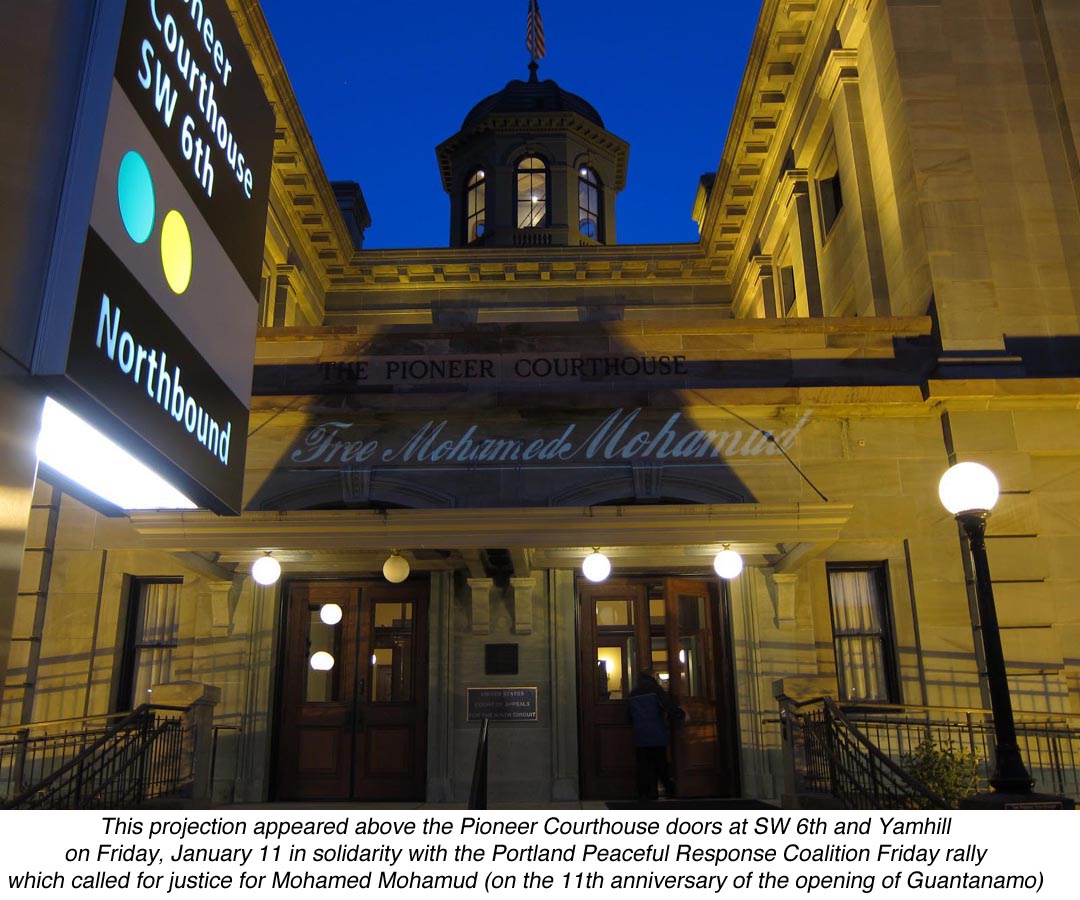 FBI Sting on Mohamed Mohamud 2010 (aided by Portland Police)
The Sentencing of Mohamed Mohamud set for Thursday, June 27
December 18, 2013. on hold!
Wednesday, October 1, 2014
Mr. Mohamud was set up by the FBI in a sting operation similar to many
others around the nation. His January trial ended in a guilty verdict.
The sentencing originally set for June 27 then delayed to December 18, 2013
has been canceled while the revelation that the US used warrantles wiretaps is examined.
Download and read our background fact sheet on FBI stings
(last updated November 27, 2015)
---
Past activities
SATURDAY, NOVEMBER 1, 2014, 3:00 PM
Race and Police Accountability Forum:
"The Ferguson, Missouri Story: What Really Happened"
with Rev. Robert White, President of Clergy United for Peace in Ferguson
Flyer • More info • Facebook event*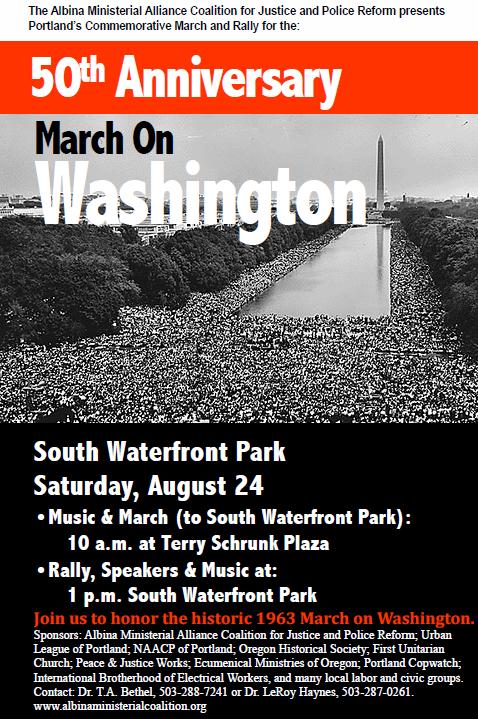 Saturday, August 24, 2013, 10:00 AM-4:00 PM
March on Washington 50th Anniversary
Commemorative March and Rally
10 AM gather at Chapman Square (across from Terry Schrunk Plaza)
and 11 AM march to
1:00 PM rally at South Waterfront Park (SW Naito and Columbia)
Sponsored by the Albina Ministerial Alliance Coalition for Justice and Police Reform;
cosponsored by Peace and Justice Works, Portland Copwatch and dozens of other organizations.

Saturday, July 21, 2012 7:00 PM
Peace and Justice Works/Portland Copwatch
20th Anniversary Celebration
featuring the "Warmonger of the Year" award (the PPB is a nominee!)
Peace House • 2116 NE 18th (at Tillamook) • Details, including the results!

---
Trainings
Portland Copwatch present a Your Rights and the Police Seminar
on Monday, March 10, 2014 at 6:00 PM
at Center for Intercultural Organizing 700 NE Killingsworth

Monday, February 18, 2013
Your Rights, Bikes and the Police Seminar
Series of three workshops, last Mondays of June-Aug 2005.
Orientation, Your Rights and the Police, and Copwatching
Details on the trainings
Back to top

---
On This Page
* denotes recent New info

Joint Terrorism Task Force
Past Activities
Trainings
Drug Free Zones
Contact info