See our wish list (at the Portland Copwatch website)

Sunday, April 29, 2012 4:00-8:00 PM
"No War on Iran: Occupy AIPAC"
Protest the lobbies of the 1% who support
war on Iran and apartheid in Israel
Outside Mittleman Jewish Commmunity Center
6651 SW Capitol Highway (near Vermont St.)
• Calendar listing • Flyer - 8.5x11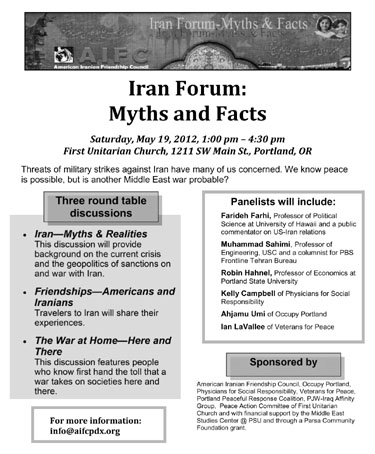 Saturday, May 19, 2012, 1:00-4:00 PM
Iran Forum: Myths and Facts
First Unitarian Church, 1211 SW Main

Full page flyer (pdf) • facebook *

Support PJW and others involved in the
Portland Says: Bring Our War $$ Home! campaign
Launched as part of the Campaign to Bring the Troops home in August, 2011
January-March, 2012: Now that City Council has passed a Resolution,
several community groups are calling for the
Multnomah County Commission to pass a similar resolution..
More info

Download our most recent Fact Sheet: -September 9, 2011: Aftermath of 9/11, Ten Years Later

Monday, May 2 2011
PJW STATEMENT: Bin Laden assassination
is not something to celebrate
Read about the Campaign to Keep Oregon's National Guard Home
from Iraq and Afghanistan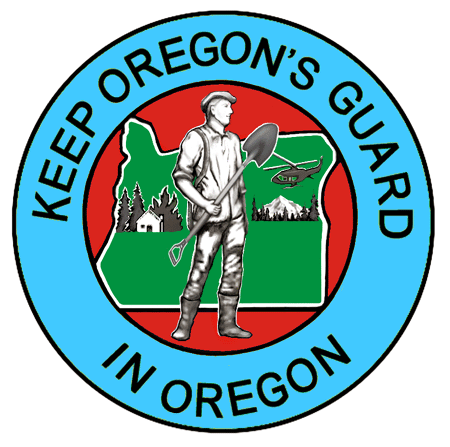 Launched as part of the Campaign to Bring the Troops home in May, 2008
Guard Home Campaign Considers Successes in 2009 session (6/23/09)
Info on Wednesday, March 19, 2008 Action
"Iraq

for Iraqis Now! U.S. Out / Five Years of War and Occupation"
Day of action on the fifth anniversary of the invasion
More info Images of our three 20-foot banners


See an image of the Message to the Iraqi People
low resolution-97KB / high resolution-3 MB
and short quicktime video
from the Mon., March 19, 2007 action
at Terry Schrunk Plaza
T-Shirts with the
Message to the Iraqi People --just $14 Contact PJW for more information

January-May, 2007: The Oregon House and Senate each passed resolutions regarding Iraq.
Peace and Justice Works and other groups worked on a
proposed statewide resolution in Oregon
calling for the troops to come home and to fund human needs.
The resolution was based on the Portland City Council resolution
adoped unanimously on November 30, 2006.
With the announcement of a "surge" in troop deployment,
and a limited six-month session for our legislators,
now is the time for Oregon to take a stand as a whole!

Campaign to Bring Oregon's Troops Home

Our Recent Fact Sheets:


Fact Sheet-September 9, 2011 Aftermath of 9/11, Ten Years Later
(.pdf only )




Fact Sheet-January 14, 2011 Iraq, Twenty Years Later
(.pdf only )

Fact Sheet-March 19, 2010 Iraq, Seven Years Later
(.pdf only )




Click here for: •other PJW/Iraq Affinity Group fact sheets
•past Iraq Affinity Group and other PJW events

Sanctions lifted,
but UN gives control of Iraq to U.S. On May 22, 2003, twelve years, nine months, and 16 days after sanctions were imposed on Iraq, the Security Council voted 14-0 to lift sanctions...and give full authority in Iraq to the U.S and U.K.
Comments from Institute for Public Accuracy on the lifting of sanctions.

Please note below the revised information about our group, which has reassessed its mission in the aftermath of the war on Iraq and the lifting of sanctions. We have also added a contacts and references page for quick resource info.

Read our fact sheet: "US Out of Iraq! Demand Balanced Media Coverage" (April 12, 2003)


Iraq Affinity Group

MISSION STATEMENT
The Peace and Justice Works Iraq Affinity Group is committed to educating the public about the effects of U.S. policy on the people of Iraq, and other areas including SW Asia, North Africa, and the "Middle East."**
WHO WE ARE
We are a secular grassroots group connected to the local peace and justice organization Peace and Justice Works. We are men and women, young and old, of various ethnic heritages and religious and spiritual beliefs.

We organize to improve the lives of the Iraqi people and ensure that Iraq's sovereignty is regained and respected. We will continue to oppose the expansion of the "War on Terrorism," especially as the U.S. threatens Iraq's neighbors with military action.

We believe the United States' pre-emptive war on Iraq and subsequent occupation are illegal and immoral. Following over twelve years of the most stringent economic embargo in world history which killed hundreds of thousands of Iraqis, we find the image of Americans as "liberators" a shocking rewrite of history.

The regime of Saddam Hussein was a brutal dictatorship, which caused fear and repression in Iraq. However, U.S. policy--both in installing and supporting Hussein and in deliberately preventing the rebuilding of the country's infrastructure for 12 years--is just as much responsible for the suffering there.