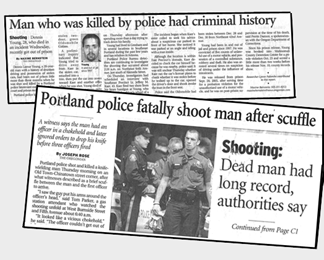 How the Oregonian Frames Police Shootings A large bold headline in the January 6 Oregonian shouted, "Man Who Was Killed by Police had Criminal History." The first paragraph reveals that the newspaper researched court and prison records to show, "Dennis Lamar Young, a 28 year-old man with a history of drunken driving and possession of stolen cars, had been out of prison little more than three months when he was shot and killed by a Portland police lieutenant early Wednesday." The article went on to state that Young had been in and out of jail and prison since 1997 and had been convicted on various counts, and that he had also served prison time for a probation violation and was on post-prison supervision at the time of his death.
Subsequent information about this police shooting has revealed that the officer involved has not been completely cooperative in the investigation (Willamette Week, March 22), and that a witness (the officer's sister) only recalled very pertinent information two days after she was initially interviewed (that the car backed up after rocking back and forth­Oregonian, March 18). However, such headlines and reports featuring the shooting victim's past history leave the reader with the impression that perhaps he got what he deserved.
Similarly, on May 20, 2005, the Oregonian discussed the death of Vernon Clifford Allen, who was shot by police (see PPR #36). While the main headline stated, "Portland Police Fatally Shoot Man After Scuffle," the sub-headline on the continuation of the story indicated, "Shooting: Dead man had long record." An article the following day stated Mr. Allen had "an extensive record."
An Oregonian article of March 22, 2005 dealt with the police shooting death of Ronald R. Riebling, Jr. and apparently, once again, court records were researched so the public could be informed that he had various convictions and had been on parole from prison.
The question must be asked: What purpose does such information serve? Rather than dealing with the more important issue of how the police handle these situations, does the information in the articles about the various records and convictions plant in the reader's mind that the police shooting victim was a lesser human being, and that his death is not truly a tragedy?
To contrast the Oregonian's focus on citizens' records with Portland Copwatch's tendency to bring up police officers' misconduct histories, it is important to remember the difference in the severity of their actions. The crimes committed in the past by these suspects generally do not warrant capital punishment, but had the officers been disciplined and/or fired for their past apparent abuses, perhaps the victims would still be alive.